90,113 New Monthly Visitors
This client is a large affiliate in the US cell phone market, operating eCommerce and blog articles for conversions.
Can eCommerce Link Builders services be used for affiliate websites (sites without a checkout)?
100%! Our name is focused on people that want ROI; affiliate marketers are synonymous with crushing results driven campaigns. That's why big brands, eCommerce stores, and service sites pay over $12 billion in affiliate commissions a year.
In this case study, we look at an affiliate website in the cell phone niche – often regarded as one of the top 20 most difficult niches to crack for solo marketers.
This affiliate website was landing some great links and was mentioned by some of the biggest news sites online. In fact, they came to us with an ahrefs domain rating of over 80!
All the previous marketing efforts were driving huge bunches of links into the site. Honestly, any novice looking at the inbound link profile would think the linking domains were enough to rank keywords on any page of Google.
However, when we did our analysis to find out why they struggled to rank for some competitive terms, it was a similar story.
The problem was, key pages that acted as silos into the commercial blog content didn't have links, looking at the Google search results for the target keywords showed this clearly.
There was an obvious gap for the inbound links for their bottom of the funnel content, when comparing with the competing pages in the SERP's.
Organic Traffic Increases
247.99% Increase in Organic Traffic (90k a Month)
The orange line on the chart below shows 3 months of flat organic traffic that was on a slow but steady decline of about 10%.
Our campaign kicked in, and all hell broke loose! In a 3 month period, the daily traffic went from around 1,400 to 5,000 organic visitors a day.
The website went from having 33,338 organic visitors in May 2021 to 150,496 in August 2021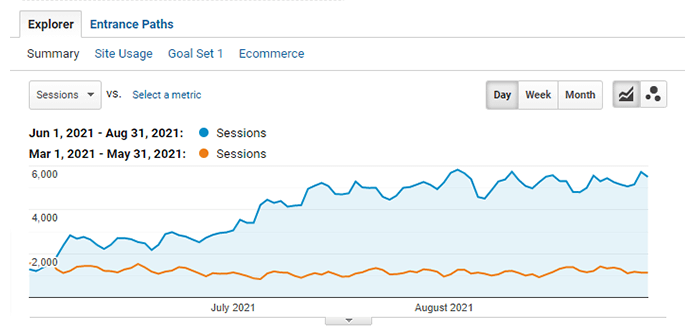 The client had a really healthy link velocity already and went straight in with a custom monthly package of 30 links a month.
As you can see from ahrefs traffic estimates based on keyword rankings, 3 months of our campaign changed everything.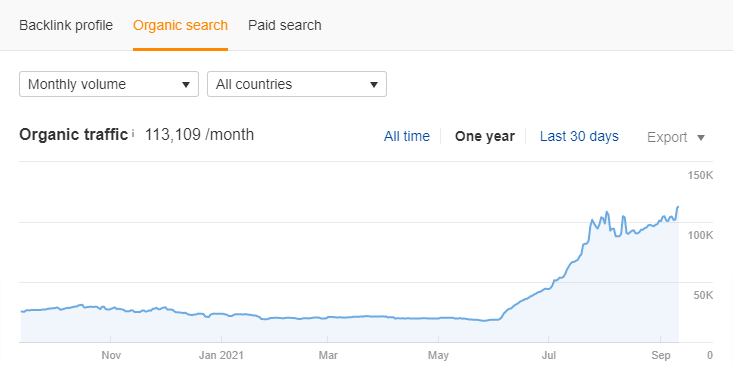 *To be clear, ahrefs traffic data is not from the client and is estimated by the tool.
The other 9 months of the year filled with press mentions from some of the biggest sites in the world made no visible difference to their keywords ranking in Google.
That's not to say you don't want those links! No, you really, really do!
What this illustrates is that floods of irrelevant links to non-commercial pages have a diminishing point of return.
They are vital for authority sculpting your domain's base authority – but less important for a laser-targeted commercial keyword ranking improvement.
Keyword Ranking Increases
25,167 Keywords Increased 578,742 Positions In Google
So this is what happens when you point links from sites that are:
For some perspective, if we did a 'finger in the air average', this website went up 23 positions in Google for each keyword that improved.
Insane.
Below you can see a snapshot of the most influential keywords increasing by position and traffic estimates. It shows their ranking position in May 31st, compared with 3 months later.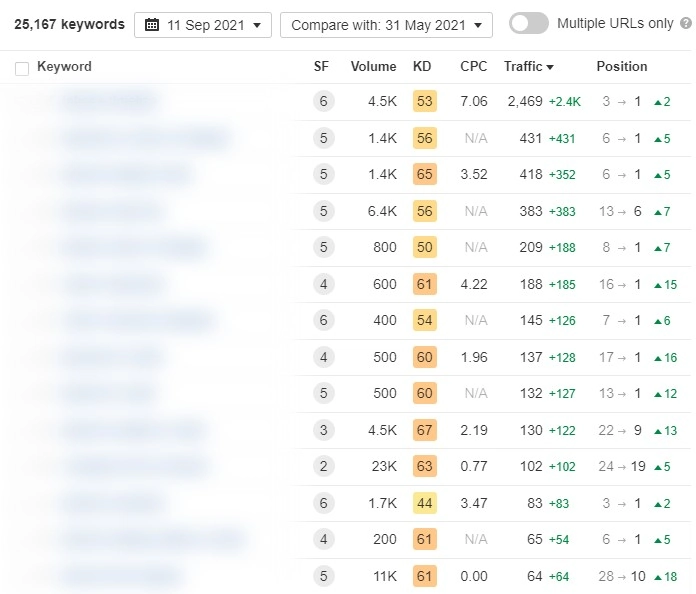 Why did this go so crazy?
Well, as we mentioned before, these silos of content didn't have the same inbound links as the top-ranking pages in the SERPs. By hammering in some links from hyper-relevant content and niche sites – something snapped, and snapped well!
What do the position increases look like as a whole?
Well, ahrefs has a chart for that too.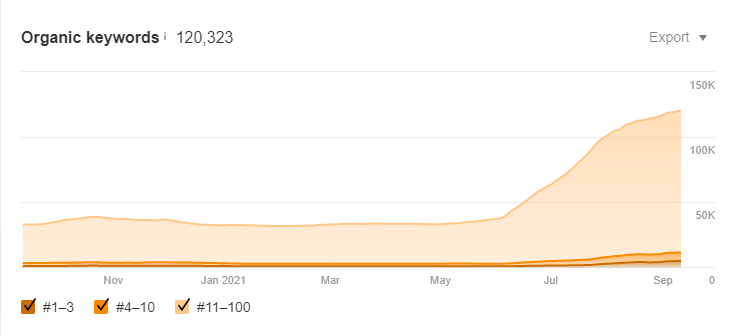 Again we see the flat keyword ranking positions leading up to the campaign.
Below, the first figures from the chart represent how many keywords this client ranked for in Google, broken down by positions #1-3, #4-10, and #11-100.
Again, totally insane results from an obscure circumstance where the client's inbound links were the black sheep in the SERPs.
The core focus for the campaign now is to move the relevant keywords from positions 4-10 to the top 3 spots in Google.
Campaign eCommerce ROI +30.8%
3 Months, $28,409 in Additional Revenue (+182.47% Increase)

As you may or may not know, affiliate commission is a share of someone else's profit.
The game is simple, steal rankings from someone in a particular niche by being smarter, better, or working harder at ranking than the brand in the sector.
Then flip the site back to someone for a fat pay-out.
The client invested $23,820 into 3 months of a custom link building campaign, knowing that their site was an authority and could take the influx of link velocity (if done right).
These links resulted in a $9469.66 increase in monthly revenue, and it's fair to say that a lot of the pages that are suddenly ranking are not conversion optimized to the max.
Selling an affiliate site making a monthly revenue of $9,469 in this niche could land a pay-out in the $220k-$340k region. Yes, really! These figures are based on a conservative multiplier provided to us by known business marketplace, Flippa.
The backlinks were not a bad investment at all!
90x Relevant Links Published Quality Sites in 3 Months.
We built a custom package focused on filling the page-level authority gap the client had in Google SERPs.
We analyzed the top 10 results for what pages would benefit from links the most, pairing them with the keyword phrases.
Then we went into some detail on finding out the average link counts the competitors had that were ranking. We broke these down by contextual dofollow links and put them in buckets of authority strength.
Once we knew what to build, it was simply the fact that our content and publishers would be more relevant and of better quality than the rest.
Again, here are the backlinks we built through blogger outreach:
What do we mean by better or quality links?
Well, that's where it gets a little complicated. Our insane quality assurance and vetting process through our blogger outreach ensure you get AWESOME sites linking to you.
Like these: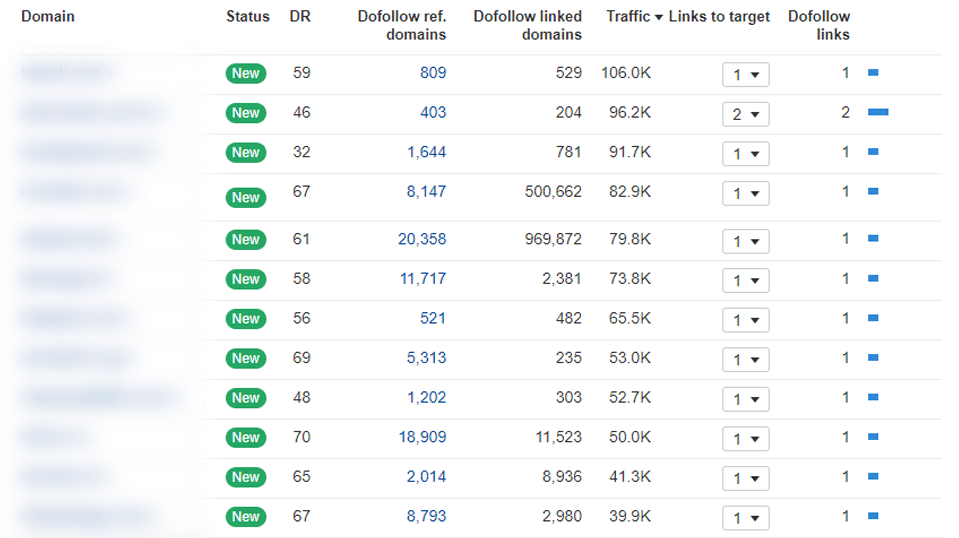 As you can see, we landed links from sites that had:
Remember, the traffic figures ahrefs shows are often way lower than the real organic visitor count, sometimes double even.
It goes to show that authority sites can be blind to the devil in the detail.
Page-level links, relevance, and authority.
A website with 5,000+ linking root domains just needed a little push with relevant links to the right silo of content.
And, with it being an affiliate website, it was great to see the impact the new net profit revenue would have on the sale price too, adding some extra ROI on the spend for the owner.
Now over to you. If you have a keyword, page, or website that's stuck, let us know.
Check out our packages and individual guest post pricing below. If you're stuck on where to start, feel free to grab us on a call or drop us an email below.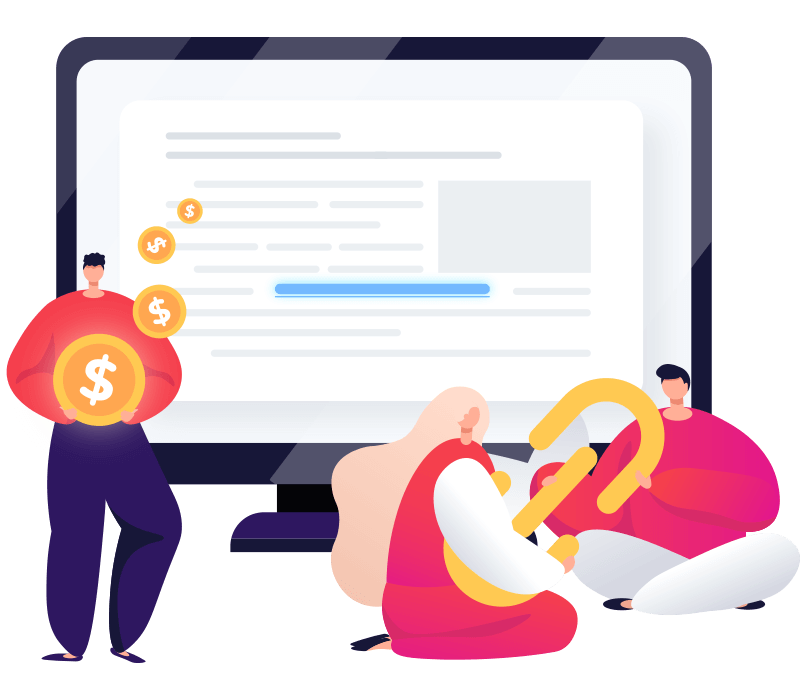 Put yourself in the driver's seat and choose guest posts on real websites by your own volume and authority metrics – Scale and save!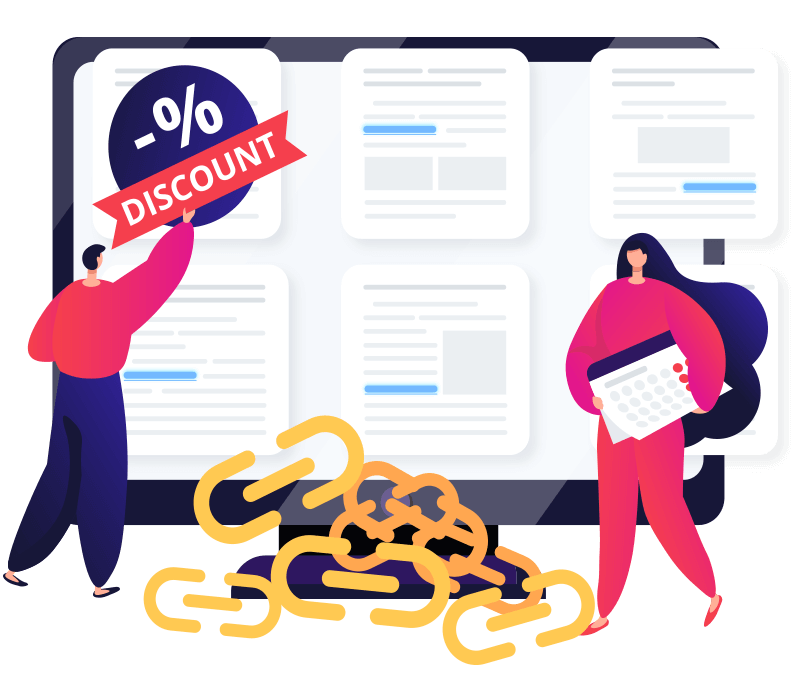 Grab yourself one of our white label link building packages, and you'll get high-quality, 100% done-for-you guest posting at a discounted rate.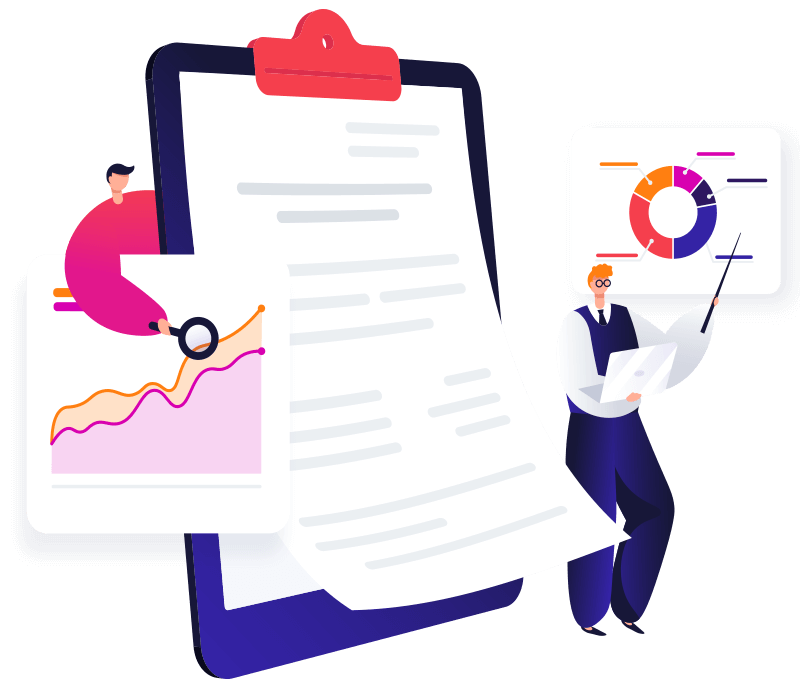 Check out some of our kick-ass case studies showing real client ROI from Google Analytics traffic and eCommerce revenue increases.
Let eCommerce Link Builders Take your Site's Traffic and Income to the Next-Level